Celebrating Passover Traditions with Madeline Hill
Passover Seder
When I was growing up, Passover was my favorite food holiday. Of course, Hanukkah meant presents (and what kid doesn't love presents!) and gave me something to look forward to when it seemed like everyone else was celebrating Christmas. Halloween came with loads of candy. But Passover had something that no other holiday had – Grammy's matzo ball soup.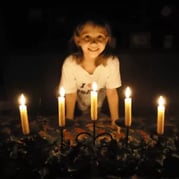 If you've never sat through a Passover Seder, you don't know how endless it can seem for a young child. The holiday celebrates the retelling of the biblical story of when the Jews were freed from slavery in Egypt. There are readings from the Haggadah, the book that includes the prayers and stories of Passover. In between the readings, you get small bites of food that are symbolic of different aspects of Passover, such as a single hard-boiled egg to represent spring, or one piece of matzo, a type of cracker that represents the unleavened bread the Jews ate while fleeing Egypt.
Every year, my extended family celebrated Passover at my Grammy's large apartment in Washington, D.C. Grammy, my paternal grandmother, was an excellent cook. So, on Passover, enticing smells wafted into Grammy's elegant dining room from her adjacent kitchen, making my mouth water and my stomach grumble. Sitting through the Passover service, I'd become impatient, squirming in my chair, and coming up with excuses to take breaks from the table.
The reward
But then came the reward. After we'd gone through each item on the Seder plate and the associated prayers, and before the main course, we'd each get our large, steaming bowl of matzo ball soup. The traditional Ashkenazi Jewish soup has dumplings made from a mixture of matzo meal, eggs, water, and fat, such as oil, butter, or chicken fat, served in chicken soup. Grammy's was the absolute best I've ever had to this day.
When I was a young adult, Grammy shared her secret about why her dumplings were so unbelievably delicious. She used a very light touch when forming the round dumplings from the mixture. If you pack the matzo balls too firmly, you end up with golf ball-like dumplings instead of the desirable, light, delicate texture.
Today, anytime I smell matzo ball soup, it reminds me of childhood Passover celebrations at my Grammy's apartment. Recreating the genius of her matzo ball soup is tough, but it doesn't stop me from trying!
Because I'm now a vegetarian, I have my spin on the traditional Jewish dish. It's also much easier because I don't have to make chicken stock from scratch.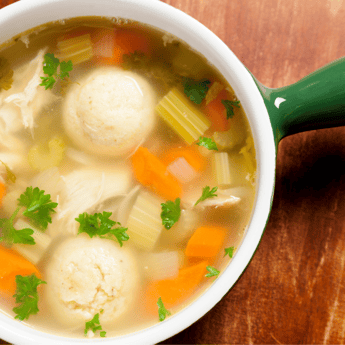 My "Lazy" Vegetarian Matzo Ball Soup
Prep time: 20 minutes
Total time: 50 minutes
Serves: 8
Ingredients
1 cup matzo meal
4 eggs
½ cup vegetable oil
¼ tsp garlic powder
3 tsp baking powder
2 tsp salt
64 ounces vegetable broth
3 large carrots
5 stalks celery
2 Tbsp fresh chopped dill
4 large sprigs of parsley
¼ tsp freshly ground black pepper
Mix the matzo meal with four beaten eggs, oil, garlic powder, and baking powder, and refrigerate for 15 minutes. Do NOT overmix!
Boil a large pot of water and add salt. Wet your hands and gently (remember, use a very light touch and don't overpack them!) form the matzo ball mixture into one-inch balls and carefully drop them into the water. Cover the pot and cook them for 30 minutes. Reduce the heat if necessary to keep it at a low boil.
Meanwhile, boil the broth in a separate large pot. Add the carrots and celery and simmer them for 15 minutes. When the matzo balls are cooked, use a slotted spoon to remove them from the water and add them to the pot with the vegetables.
Add the dill, parsley, and black pepper and serve hot.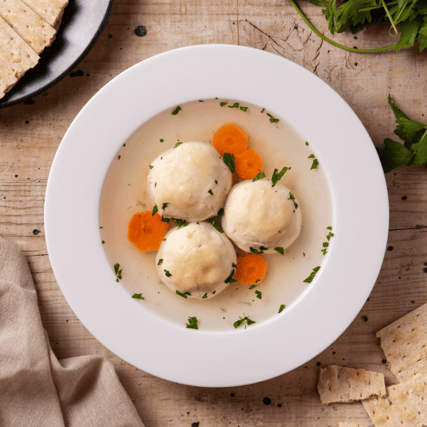 Traditional Matzo Ball Soup
Prep time: 1 hour
Inactive: 2 hours
Total time: 3 hours
Serves: 8
Ingredients
For the chicken stock:
1 4-5 pound whole chicken or 4 to 5 pounds of whole chicken legs
2-3 quarts low sodium chicken stock or broth
3 large carrots
5 stalks celery
2 Tbsp fresh chopped dill
4 large sprigs of parsley
For the matzo balls:
1 cup matzo meal
½ tsp garlic powder
3 tsp baking powder
4 large eggs
¼ cup melted schmaltz
In a large pot, bring the chicken stock to a simmer. Add the chicken and bring to a boil. Reduce to a simmer, cover the pot, and simmer until the chicken is cooked through (about 1 ½ to 2 hours)
Remove the chicken and let it cool enough to handle. Cut the meat off the bones. Discard the skin and bones. Strain the stock into a large pot and use a slotted spoon to skim the fat off the surface.
Meanwhile, bring another large pot of water to boil while you make the batter.
In a large bowl, whisk the matzo meal, garlic powder, baking powder, and salt. In a small bowl, mix the eggs and schmaltz. Fold the egg mixture into the dry ingredients, taking care not to overmix. Wet your hands and gently form the matzo balls. Refrigerate for at least 20 minutes.
Gently drop the matzo balls into the boiling water. Cover and boil until cooked through, about 30 minutes. Remove the matzo balls with a slotted spoon and set them aside.
Return the chicken stock to a simmer and add the celery and carrots, simmering for 15 minutes. Add the chicken, matzo balls, parsley, dill, and black pepper. Cook until just warmed through. Serve hot.
Family Recipes are Precious and Deserve to be Preserved!
Food doesn't just sustain us. Its smells, textures, and flavors evoke childhood events, special occasions, and memories of loved ones who are long gone. What are your favorite family recipes? We'd love to hear about it!